This week, the Process Expo came to Chicago for the first time since 2019. While the show brings dinners every night of the week and plenty of donuts and beers from vendors, Process Expo 2021 also marked our first tradeshow since the COVID-19 pandemic. In today's post, we're going to spotlight the three products that caught our eye and that we look forward to using to help our customers solve their process challenges.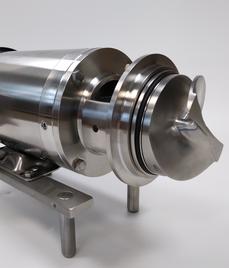 McFinn Technologies- Bowpeller
The first product that really jumped out at us was the Bowpeller by McFinn Technologies. The patented low shear centrifugal pump is ideal for high efficiency, gentle product handling. McFinn uses a patented bow tie shaped impeller in lieu of your typical open vane type impeller. The wider clearances enable gentle product handling and the unique design allows the pump to have better efficiency than typical C Series pumps. It's so efficient that a 3 HP pump can put out 130 GPM at 72' of discharge head! And while the impeller is a big hunk of steel, it doesn't cost much more than a comparably sized C Series.
We can see us helping customers in both dairy, wine, and brewing applications with this pump. The high efficiency and low shear will be ideal for milk and wine unloading where we want to minimize entrained air and unload the product as quickly as possible. We see even more possibilities in the brewery. The low shear design is perfect for handling wort or recirculating beer during dry hopping. The design should also minimize oxygen pickup and ensure handle hops delicately. We also think it would do well with entrained air on CIP return applications. We're really excited to work with customers to find more great applications for the Bowpeller.
Pivoting from the low shear Bowpeller, the second product from Process Expo 2021 is the ViscoTec Visco Jet. The Visco Jet was developed in Switzerland over 30 years ago and proves that successful agitation is not about speed, but technique. The Visco Jet uses a series of nozzles that accelerate laminar flow at the cone exit and the reverse turbulence created by dynamic pressure at the cone entrance, generating high-momentum mixing. The design is extremely material friendly and very efficient, requiring lower horsepower than traditional prop type mixers.
The Visco Jet is available with closed cones for medium viscosity applications like dairy products, beverages and pharmaceutical products, with spiral cones for high viscosity applications like wall plasters and glues, and with a patented CRACK type impeller that creates high shearing forces and release agglomerates without air intake. The Visco Jet is perfect for IBC tote cleaning as well as top mount mixer applications where we want to achieve powder incorporation without product frothing.
Endisys- 3 Axis Sanitary Elevator
The morning we were headed to the show, we got a call from a customer who was looking to evacuate honey from an open top tote. Currently, they're using an AODD and the 2" bottom port on the tote and it's taking forever! Fortunately for this client, we found just the product they were looking for at the Process Expo!
Endisys' 3 Axis Sanitary Elevator uses a Graco piston pump on an articulating arm, allowing effective coverage of the entire tote. This is a lower cost alternative to a full blow bin evacuation system that will also provide this contract manufacturer the flexibility to pump out of multiple drums! For more information, check out the video below or contact a Triplex Sales Engineer today!
Because of the COVID pandemic, it'd been a long time since we'd been to a trade show. But being back at the Process Expo reminded us what a great opportunity trade shows are to see old friends and discover new products. If you have any questions about the Bowpeller, Visco Jet, or Endisys 3 Axis Elevator, contact a Triplex Sales Engineer today!